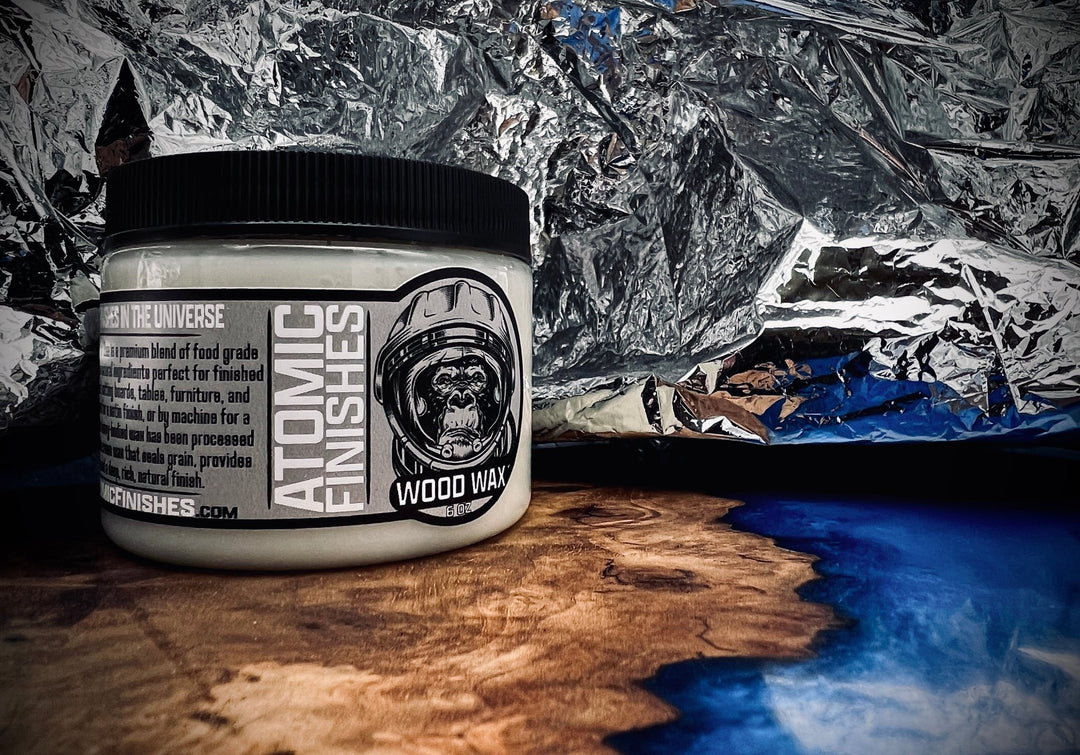 Atomic Finishes Wood Wax
Atomic Finishes Wood Wax is a premium blend of food-grade waxes, oils, and other natural ingredients perfect for finished or unfinished wood, cutting boards, tables, furniture, and more. Apply by hand for a satin finish, or by machine for a polished finish. This heavy-bodied wax has been processed into a very workable cream wax that seals grain, provides protection, and provides a deep, rich, natural finish. 
Made in the USA with ultra pure and premium Food Safe / FDA Food Contact Safe ingredients. Certified Vegetarian by the American Vegetarian Association.

Regular price
$55.00
Sale price
$48.00
Save $7.00
/
---
Free standard shipping on orders over $175*
Atomic Finish Wood Oil is for use on all natural woodworking projects from cutting boards to conference tables. Atomic Finish Wood oil is ultra purified and clarified using only the best food grade, non-toxic ingredients. Developed by wood working professionals out of frustration and disappointment with what was available in the food safe finish over years of tweaking to make the perfect finish. 
Atomic Finishes Wood Oil highlights the natural colors and figure in the grain of the wood. There are no pigments, colors or dyes added to this super clarified product.
Atomic Finishes Wood Oil is ready to use directly from the jar, although stirring the oil is recommended as the product settle if exposed to heat (shipping in the summer or hot shops). Your project should be finish sanded, clean and dry. The project should be free of dust and contaminates before applying.
Let's step back a bit - This product was designed to be applied on wood that has been finished with any grit. We recommend 220-320 but the protection level is not affected by sanding up to a higher grit. The unique formulation of Atomic Finishes Wood Oil allows adjustment to sheen of the project by what grit the project is sand to. A higher grit, with mechanical buffing will provide a much glossier finish than the beautiful rich semi-gloss finish of had applied over 320 grit finish. 
An application pad, mechanical buffing wool pad or microfiber cloth are all great ways to apply the finish. As with all projects it is recommended to use proper safety equipment while applying.
Apply a heavy coat of finish onto the project until the surface is coated in a thick coat of finish. The finish can be put on Mr. Miyagi syle; wax on, wax off but it is recommended for best results to give the finish some time. For for most projects leave the heavily oiled surface undisturbed for 15 minutes to one hour, the longer the better. On extra thirsty wood apply a thick coat of finish with a "Bondo" spreader and allow it to sit overnight. Once it has sat, take a the spreader and remove the excess finish and if desired return it to the jar.
Start to rub the product into the surface, the polishing helps the finish to absorb into the grain and set the wax. Once the surface has been polished to the desired level, use a clean microfiber towel as a final wipe. The finish will set and finish absorbing over the next few hours depending on the temperature. 
For higher gloss using an orbital buffer or car polisher can work wonders. This product was designed with multiple different waxes and this process can really bring out the shine!
Re-apply anytime without sanding, although cleaning the surface before is recommended. 
Have a spot touchup or need to sand out a scratch in the wood? No worries, apply finish the the affected area and the finish will blend in. 
Although Atomic Finish Wood Oil is non-toxic and made from food grade ingredients practicing proper shop protocol is important. Always dispose of oily rags in a proper manner. Although Atomic Finishes Wood Oil does not emit flammable vapors, rags should always be treated as a fire or combustible hazard. 
All orders are processed from same day up to 3 business days (excluding weekends and holidays) for in-stock items after receiving your order confirmation email. You will receive another notification when your order has shipped.