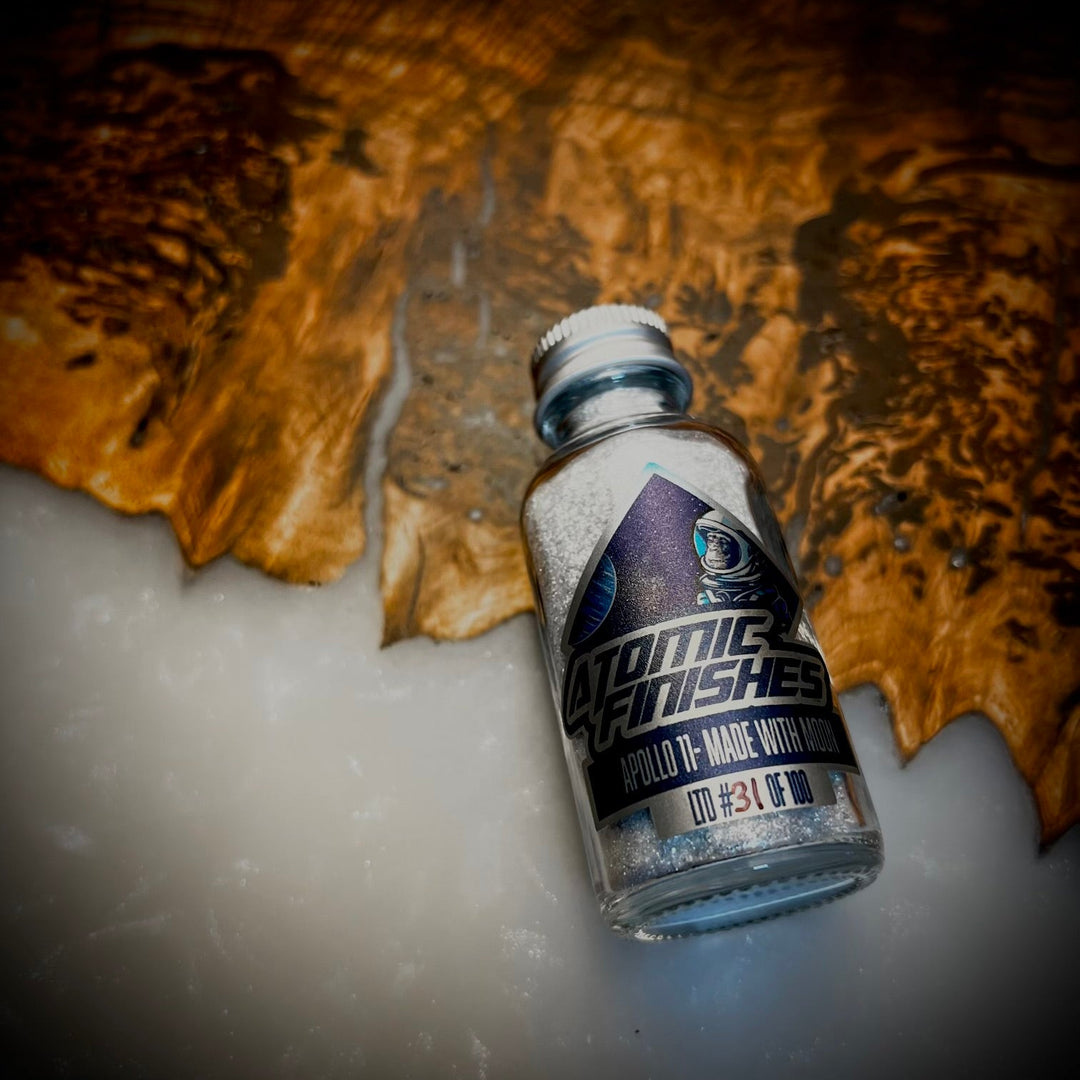 MADE WITH MOON Limited Edition Mica Powder Pigment
THE EAGLE HAS LANDED!

Possessing and selling moon rock and dust is illegal in most circumstances, as lunar material is the property of the U.S. government (NASA). Why? Because anything brought back to earth from the moon by NASA would have to be stolen or on the black market as NASA has never released moon rocks or dust to the public. This is also true for every other space agency in the world.

FEAR NOT! We have acquired extremely rare lunar meteorite cutting dust that is generated when cutting a specimen into slices for museums and collectors. This ultra rare material is many times more expensive than gold by weight, and one of the rarest things to find on earth.

So whats a Lunar Meteorite? A Lunar Meteorite is extremely rare as the conditions have to be just right - in so many ways. It all starts when meteorite or debris in space strikes the moon. Since the gravity on the moon isn't very strong it can cause a moon rock to fly into space in which the classification turns from moon rock to lunar meteorite. In all of the directions this Lunar Meteorite can be directed to, there's an extremely small chance it will head to Earth.
If the Lunar Meteorite just happens to head to Earth, the odds are still not in our favor. 71% of Earth is covered in water, so if it lands in the water there's no hope in finding it. The Meteorite has to make it through the atmosphere without breaking up or burning up upon entry. Let's say it's headed towards Earth, it's big enough that it won't all burn up on entry, and its going to miss the oceans and hit land... but then it still gets more difficult.

There are very few areas where non-iron Meteorites can be found, and this comes down to the fact that if you were to throw a rock into a pile of rocks, a stream, a mountain, or pretty much anywhere how do you know what's not supposed to be there and you pick it up thinking this rock is special?

So this leaves very few places that a Lunar Meteorite can impact and be found, and that would be in deserts and on ice. When a meteorite is on a glacier or ice it's pretty obvious that its not meant to be there, and when walking through the desert of endless brown sands and there sits a bright white/gray stone in an impact area you might have just found a Lunar Meteorite!

Atomic Finishes is excited to announce 3 limited edition colors that contain actual lunar dust from authentic cutting dust from the Lunar Meteorite 'North West Africa 10756 (NWA10756)' which was found in 2015, and classified by The Meteoritical Society and published in the Meteoritical Bulletin, No. 105 in 2016.
These are one-time mixed colors and very limited.

The three available colors are:
Apollo 11 - White, Semi-Transparent

Buzz - Blue
One Giant Leap - Gray/Brown


Each Made With Moon Pigment contains:

-Made With Moon Box

-Certificate Of Authenticity
-Edition numbered glass jar with Made With Moon Pigment.
-"MADE WITH MOON" stickers for your project (epoxy rated ink, can be "floated" in epoxy)

Note: edition numbers will be sent at random
Regular price
Sale price
$64.99
/
---
In stock, ready to ship

Inventory on the way
Free standard shipping on orders over $175*
All orders are processed from same day up to 3 business days (excluding weekends and holidays) for in-stock items after receiving your order confirmation email. You will receive another notification when your order has shipped.